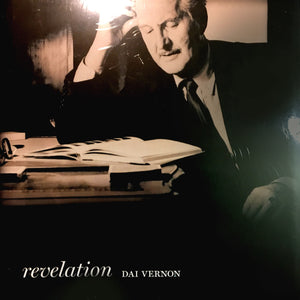 This new, over-size book was triggered by the discovery of more than 160 long-lost photographs of Dai Vernon's hands that were taken in 1961 specifically to illustrate this manuscript. It is as close as you will ever get to a personal session with the Professor.
THE BOOK INCLUDES
A facsimile reproduction of the entire, original typed Revelation manuscript.
The entire text of The Expert at the Card Table with Vernon's annotations inserted at the appropriate places illustrated with the newly discovered photos of Dai Vernon's hands.
Plus more than 100 pages of added material including Vernon's explanation (with photos) of Topping the Deck, Walter Scott's Second Deal and Double Belly Cut, the Ping Pong Shift, The Hop, Allen Kennedy's legendary Center Deal and more.
Pages
: 392 - 9" x 11.5" - Hardcover - The book bound in green cloth and stamped with copper foil, and the beautiful dustjacket were designed by Michael Albrigh
Appears in: