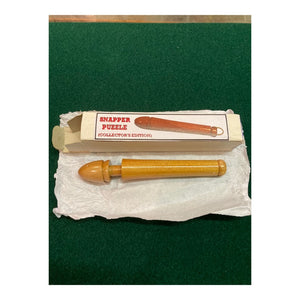 The Snapper Puzzle is a classic "magical" puzzle that seems impossible till you know the clever secret.
The performer displays a cylinder with a hole running through it. At the bottom of the hole a rubber band is threaded across the cylinder. A small plunger with a hook at one end and a knob or cap at the other is pushed into the cylinder, and twisted by the performer, apparently threading the rubber band over the hook. When the cap is pulled out and released, the plunger snaps back into the cylinder by the action of the elastic.
Having demonstrated this once or twice, the performer hands this over to a spectator to try. No matter how much he tries, the spectator just cannot thread the elastic band over the hook.
This is a large model (approximately 5 inches), turned in mahogany. Supplied with instructions.
Appears in: