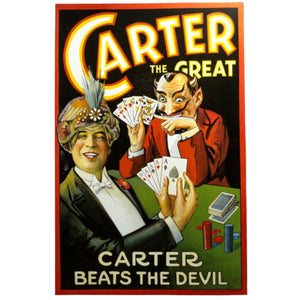 Poster Size
: 22" tall x 14" wide
ABOUT CARTER
Charles Joseph Carter also known as 
Carter the Great
 was an American stage magician in the 1920s. Highlights of Carter's stage performances during his career include the classic sawing a woman in half illusion making a live elephant disappear and cheating the gallows. Carter died in 1936.
 

Carter Beats the Devil

 
is a historical mystery thriller novel that fictionalized accounts of Carter's life that was written by author Glen David Gold.
Appears in: